BE A PART OF MAZZO'S RECIPE CLUB HERE – THE BEST RECIPE CLUB ON THE PLANET!
IT'S FREE  –  DON'T WAIT
UPDATE: SEE MY NEW FREE VIP CLUB BELOW
SEE WHAT YOU CAN GET IN THE VIP SECTION
Below is my book "SECRET INGREDIENTS" which is Free for a limited time as a GIFT!
GET THIS BOOK NOW FOR FREE CLICK HERE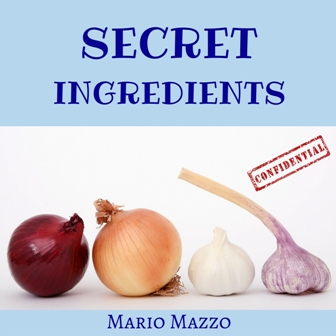 Club Members never have pay for the things they want!
There are now 2 great clubs offering goodies.
HERE'S WHAT YOU GET WITH THE REGULAR FREE CLUB
 #1 MAZZO'S RECIPE CLUB
A FREE BOOK: To get you started now called "SECRET INGREDIENTS"
COOKING: Tips, tricks and an occasional recipe sent to your email, that may not be in the books or on the website.
ALERTS: When new cookbooks are available to the public.
MY FREE MINI BOOK: Called Secret Ingredients.
NOTIFICATIONS: Of recipe improvements or when important parts of recipes in the cookbooks are edited.
TYPO NOTIFICATIONS: If there's ever a serious typo that you should know about, found in any of the cookbooks.
SPECIAL HELP: Get special treatment from me by email, if you ever need a little extra help with your cooking.
(SEE BELOW WHAT YOU CAN GET NOW WITH THE FREE VIP CLUB)
JUST SEND ME AN EMAIL AND ASK TO BE A VIP
#2 VIP CLUB
WITH THE NEW VIP CLUB YOU CAN OPT IN TO GET LENGTH COOKBOOKS
WHENEVER THEY BECOME AVAILABLE FOR PURCHASE YOU CAN GET ONE FREE
THIS IS A CO-OP PROGRAM THAT CONSISTS OF PEOPLE WANTING TO HELP OUT ONCE IN A WHILE BY JUST WRITING A SHORT 30 SECOND REVIEW FOR A BOOK AND I'LL GIVE YOU THAT ONE OR THE NEXT ONE FREE
SO PAY IT FORWARD, if you like our club, recipes or cookbooks tell others so they can get hooked up too.
WITH MAZZO'S RECIPE CLUB THERE ARE:
No Catches – We just want loyal members to spread the word of our great recipes.
No Spam – We hate spam and will NEVER give or sell your info to anyone.
No Pressure – Don't ever feel compelled to buy anything. Mario is cool.
No Commitments – You can always cancel anytime you like.
WHATCHA WAITING FOR? – GET THE BOOK NOW FREE!
IT'S FOR A LIMITED TIME ONLY