MAZZO'S RECIPE CLUB – 100% FREE
Mazzo's Recipe Club Members Get My Book "SECRET INGREDIENTS" Free for a Limited Time as a GIFT!

This club was created for the purpose of staying in touch with my readers and also to get this eBook below out to you quickly. You can also just as easily contact me via my social media channels. I'm on Facebook, Twitter, Instagram and Pinterest. Please see below what this club offers and does not offer.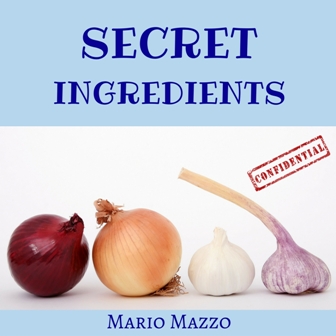 My Club Members never have to pay for advice or to chat with me. Since I'm not a "celebrity" chef that is constantly out in the public media circuit, that means I have more time to say hello to everyone.
 MAZZO'S RECIPE CLUB PROVIDES

A FREE BOOK: My Mini Book Called "SECRET INGREDIENTS"
COOKING: Tips and Secrets sent out from time to time.
ALERTS: When new cookbooks are available to the public.
NOTIFICATIONS: For recipe improvements and when major improvements are made to my eBook Cookbooks.
HERE IS WHAT YOU  GET

No Catches – I just want people that love great food!
No Spam – I hate spam and hope you do to. I never give or sell your info to anyone.
No Pressure – Don't worry, you never have to buy things from me.  It's totally cool just to hang out.
No Commitments – You can always cancel anytime you like, but there really shouldn't be a need for that since I hardly send out emails.
If there is ever anything you would like to know to make your life in the kitchen a bit easier, just send me a message via my social media channels. You can also just say hello, and let me know how you are doing. I'll do my best to get back to you as soon as I can. Best wishes and hope to hear from you soon. ~ Mario
DON'T WAIT GET THE FREE BOOK FOR A LIMITED TIME