Here's one of the Sicilian Pizza Pies I made a little while ago. I've made many of these with a variety of toppings. They are fun and easy. I'll teach you how, to step by step.
To get this recipe just shoot me over an email to mariomazzorecipes@gmail.com and ask for it. Just say something like I WANT THE SICIALIAN PIZZA RECIPE FOR FREE. Even though it's one of the recipes in my cookbooks I will send it out to you with no strings.
I can even add you to my recipe club if you like so you can get more freebies and other stuff.
Since this Sicilian Pizza Recipe wasn't in my other cookbook but is part of my New Cookbook named "My Favorite Recipes" I wanted you to have it. So I've decided to give you FREE!
There are more recipes coming soon to this blog and also some pictures of recipes that are in my cookbook.
JOIN MY FREE CLUB to get my book secret ingredients for FREE.
About this Sicilian Pizza
I learned about these Sicilian Pies when I was a child growing up in New York and they were amazing. This was back in the 1960's when I first tasted these pizza pies from Italian guys making them. You can still find them around in some pizzerias but not everyone makes them. I like them as much as the Neapolitan Pizza. I switch back and forth.
Sometimes I even turn this into a BBQ Chicken Pizza which gets lots of compliments. It's not hard to do. You just cook some chicken breast first by itself and then cut it into small cubes and sprinkle it top of the sauce layer of this pizza before you bake it with a few drops of barbecue sauce on top of each piece of chicken.
How to Check the Pie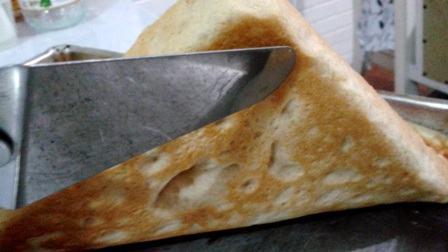 I wanted to show my cooking friends what it should look like at the halfway mark. During the halfway point of cooking this monster you want to check on it. You do this by lifting up the bottom and checking the color to make sure it's baking properly. When you see this light golden brown color on the bottom of this Sicilian Pizza Pie it's read to cool before adding more sauce and the cheese. So it's now ready to come out of the oven and cool for 20 minutes, before it goes back in for another 15 or 20 minutes.
This is a perfect example of what the bottom should look like when it's halfway done. When I pull the pan out of the oven I always place it the on top of the stove to "check the pie" then if it looks good I transfer the hot pan to a granite counter to cool. This is perfect because the granite will absorb the heat fast without hurting the granite. In this pic you see me checking this pie with this cute a little pie spatula. I get in there and loosen all the edges first and then lift in the corner to see if it's cooked enough. If it is I let it cool and then loosen the bottom from sticking before it goes back into the assembly process.
AT THE HALFWAY MARK – LET IT COOL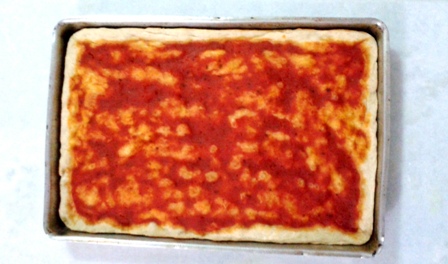 Cooling time is about 20 minutes before I place more sauce, lots of cheese, a sprinkle of seasoning, and and a few drops of olive oil and a few drizzles of sauce as a final topping. You may think that in this next picture below you see pepperoni but you don't. Look closely it's just a little extra sauce. This pizza in the pic below is totally done. I always cook them on the light side not to burn the cheese. I also cook them on the light side so that when left overs are thrown into the oven for do minutes to heat them up the crust won't get too hard. If it does you can break your teeth because this is a very crunch crust recipe. Plus this crust now when fully cooked is much darker than in the picture above when checking it at the halfway mark. It's really easy to make I just happen to give you so many details so you won't screw anything up while cooking.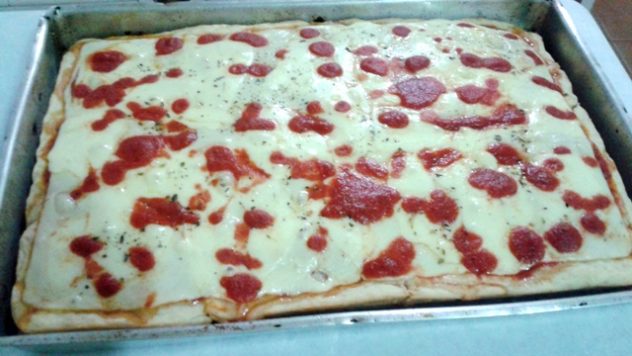 As you can see in the picture above, this pizza got 3 layers of sauce. One on top of the dough, then one after it cools, then a drizzle on top pf the cheese. If you like sauce you should like this one then. If you don't like a lot of sauce then you can go light on it. And use 18 ounces instead of 22 or 24. This pie out perfect. Nice and crispy in the bottom and soft and chewy on top.
I go into more details in the directions of this recipe. If you want it just click on the form at the bottom to join my email list and get the cookbook that contains this recipe. Hope you enjoy it.
WANT TO MAKE THIS EVEN EASIER?
You can actually place the cheese down first before the sauce and you don't have to bake it twice! So it can be a one time bake for approximately 20-25 minutes at around 450 degrees F.
Try it both ways and see which you like better.
Have a question? You can always reach me at:
MarioMazzoRecipes@gmail.com